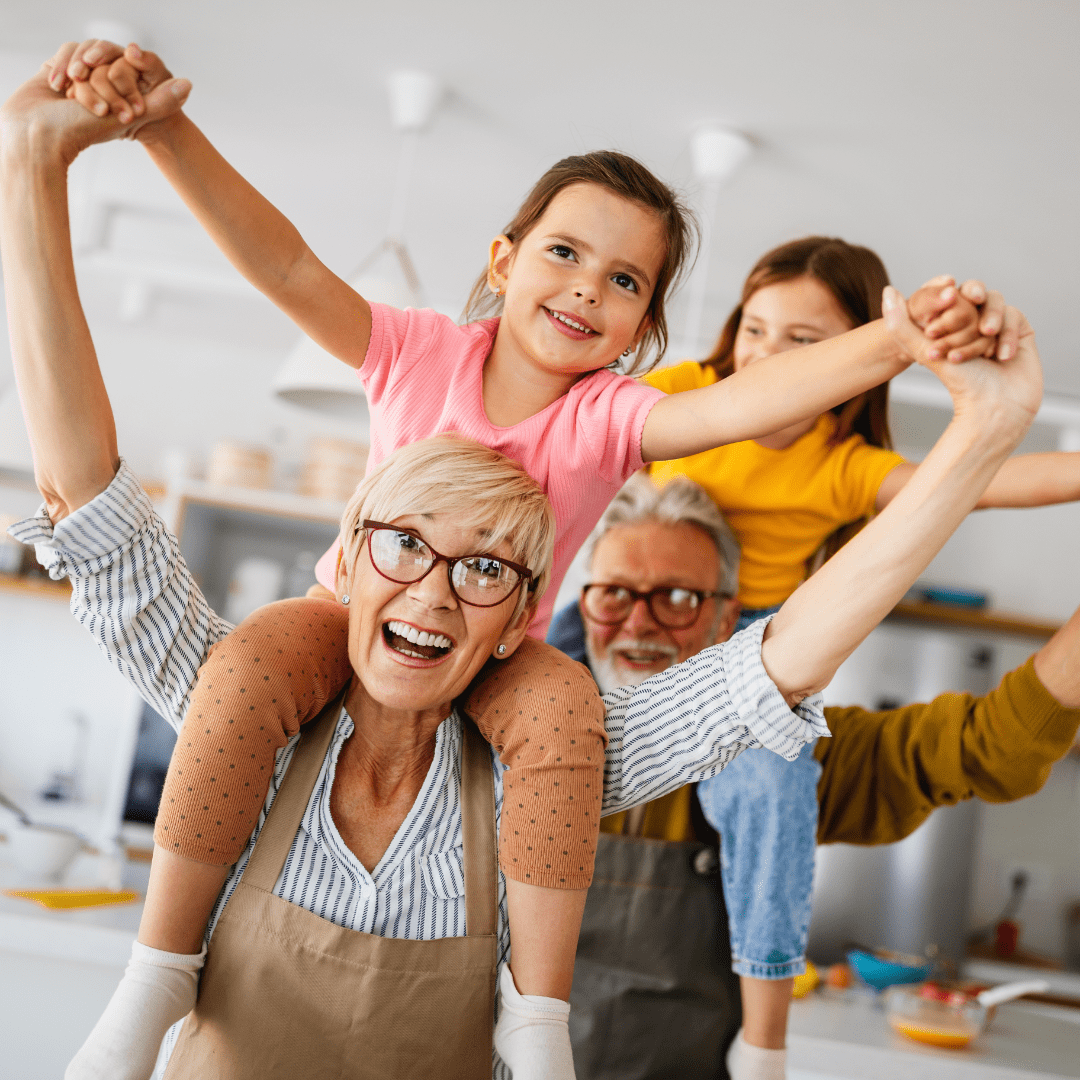 Different Kinds of Adoptions in Georgia – Relatives
Sometimes, children are adopted by relatives – whether a grandparent or a sibling or other relative – either related by blood or by marriage. Usually, this is a win-win situation, if the parents are otherwise unable to or unwilling to care for their children, since the children usually are familiar with the family member already who is going to adopt them. We've been looking at different kinds of adoptions available here in the State of Georgia. Next on our list to look at are Relative Adoptions – where a certain, select group of people related to a child who needs to be adopted are able and eligible to adopt. Let's go!
Adoptions by Relatives
Grandparent Adoptions
"Sammi loved her Grandma Joy. She loved going to Grandma Joy's house and playing tea parties and making bread the old fashioned way – where you knead it and slap it and let it rise – and then enjoy the fruits of your labor with a healthy dose of butter and homemade strawberry preserves her Grandma would make every summer. Grandma Joy loved Sammi too, and was always grateful when her daughter-in-law Sarah came to town with her own daughter, Sammi. Sammi's Dad died in combat overseas, shortly before Sammi was born. She was sad to not have known her Dad, but she was grateful for her other family, like Grandma Joy, in her life, and that Grandma Joy would always tell these wonderful, hilarious stories of what her Dad did and what he was like, growing up in Joy's house. It was like Sammi was able to meet her Dad, even though she could never meet him in person.
One day, when Sammi was 12 years old, the devastating news came in that her mom Sarah had stage 4 cancer and not long to live. Sammi didn't know what to do. She cried and cried, and Sarah cried with her. Sarah reached out to Joy – would Joy take Sammi in? Would Joy officially adopt Sammi? Joy said 100%, absolutely, without any doubts at all – yes. Next, Sarah and Grandma Joy talked to Sammi about it. Sammi was torn – she didn't want her mom to die and she didn't want her mom to feel like she was abandoning her. But Sammi also knew the reality was – her mom was going to die, she couldn't stop it, and that her mom wanted to know Sammi was going to be okay. After thinking about it, Sammi decided that yes, she wanted to go and be adopted by her Grandma Joy.
Sarah and Joy worked with a lawyer who set up all the paperwork, allowing Sarah to sign her rights over to Joy, and for Joy to be officially and legally Sammi's mom. When they got to court and they told the judge and staff why they were there, there was not a single dry eye in the room. Grief mixed with gladness, mixed with sorrow and joy – all were present in some measure among everyone there. But Sammi knew she would be taken care of, Sarah knew she wouldn't have to worry about Sammi once she was gone, and Grandma Joy gained another daughter, after losing her son. It was a bittersweet moment, but one that everyone was very grateful for. When Sarah did pass, everyone cried even more. Sammi was extremely glad, however, that she was able to go through all of this pain and loss with Joy, and Joy was so glad she was able to take Sammi in as her own."
Grandparent adoptions are a very real and common thing, especially in Georgia these days. Sometimes, it is a tragic impending loss, like with Sammi and Sarah, that prompts grandparents like Joy to adopt. Other times, it is less traumatic, but still a loss, when parents leave their children with their own parents – and never come back. When that happens, it is often best for the child and the grandparents if the grandparents either ask the parents to sign over their rights voluntarily or move to ask the court to take the parents rights away involuntarily. This is because if anything ever happens to the grandparents – as in, they die, or become unable to take care of the children – then those children by default go to their natural parents. But if they are out of the picture, then the children will likely go instead into state custody – like with DFCS. However, if the children get adopted by the grandparents, the grandparents – now parents – can designate who they want the children to go to in case something happens to the grandparents/adoptive parents. This gives everyone more security and stability, in any future that may come, when a parent cannot or will not be around to take care of their children, and the children have grandparents willing and able to take them in.
Sometimes, this kind of adoption can happen through DFCS – the state agency – as well. Check out our first post "Different Kinds of Adoptions in Georgia: Agency Adoptions" for more information on how that works – and just trade out "foster parents" for "grandparents".
Sibling Adoptions
"Kandace loved her little brother, Bobby. Bobby was "a surprise" to their mom and dad, and there was a 10 year age gap between the two siblings. But Kandace didn't care – she loved being able to be there as Bobby cooed as a baby, when he learned to take his first steps, and even when he got into her makeup when she was a teenager and put lipstick all over her favorite dresser. She loved Bobby and Bobby loved Kandace – his super hero of a sister, who helped him kill those scary spiders, and taught him how to dribble a basketball. In his eyes, Kandace was the most amazing person ever and he wanted to be just like her when he grew up.
Kandace decided to go straight into the workforce when she graduated high school. She told then-8-year-old Bobby she was going to open her own coffee shop one day, and when she did, he'd have to come and help her serve customers. Bobby loved coffee – well, mostly the steamed milk in the coffee – and he couldn't wait to help. Kandace ended up meeting and falling in love with Tom, a fellow coffee aficionado with a knack for business at her first restaurant job. They married and, by the time Kandace was 22, had already started their first thriving coffee shop in the college town next to Kandace's hometown. Bobby, now 12 going on 13, often visited whenever his parents could take him. Bobby was excited about the day when he would be old enough to work and serve customers in his sister and brother-in-law's shop.
One day, Bobby's parents went out to eat, but they never came back. A drunk driver side-swiped them on a rainy highway and they died on the scene. As soon as Kandace found out, she and Tom dropped everything and went to get Bobby. It was a shock to everyone and the two siblings just held each other and cried. Tom cried too, as his in-laws had been a great support to him and his business, unlike his own parents who thought opening up a business was crazy.
The rest of the family was on the other side of the country, but they all convened in a Zoom meeting and, after many tears, they got down to the question at hand – who could take care of Bobby? Where would he go? They were able to look at a copy of Kandace and Bobby's parents' will and it was clear that they wanted Bobby to stay with the family. But who?
Tom and Kandace talked long and hard. They were young, but so was Bobby. They didn't have children yet but wanted children eventually, and Bobby needed a home. They talked to a lawyer to see if it was even possible to take Bobby in. They quickly found out that, if they wanted to do this and if Bobby wanted to do this, that adoption was their best route. Tom and Kandace agreed and then approached Bobby, who was living with them at the time already, about it. Bobby quickly agreed – he was still grieving his parents, but being with Tom and Kandace and hanging out at their coffee shop helped him so much and the busyness of the shop helped take his mind off of the waves of sorrow when they would come. So Tom and Kandace adopted Bobby. It was a great and wonderful day when they all came home from court after the adoption was finalized.
Shortly thereafter, Kandace found out she was pregnant. She told Tom and then they both excitedly told Bobby. Bobby was ecstatic – he couldn't wait to be a big brother. He wanted to be just as good a big brother to his new sibling as Kandace had been such an amazing good big sister to him."
Sibling adoptions are really important in Georgia, especially when you have the tragic loss of both parents at once, like with Kandace and Bobby, and when the rest of the family lives on the other side of the country and can't be there to support the family like they might want to. Siblings can be a great way to keep the family together as much as possible in loss or tragedy. You do have to be 21 years old to adopt – or married and any age, but your spouse has to be willing to adopt your sibling as well. Otherwise, you just have to be financially able and stable enough to really parent and provide for your sibling – and the judge should grant the adoption, as long as it's what's best for your sibling, the adopted child.
Other Relatives Who Can Adopt
Georgia will also let Aunts, Uncles, Great Aunts, Great Uncles, and Great Grandparents adopt children related to them as such. These people, along with Siblings or Grandparents, do not just have to be related by blood – they can also be related to the child by marrying into the family. This is wonderful because it does not limit the pool of people who can take in a family member in need, just to a blood relation. Every child deserves a loving home to grow up in, and if they can stay with a family member who they have already grown to love and trust – whether they are "blood" or not – all the better.
Up Next – Stepparent Adoptions in Georgia
Next, we'll be looking at when a stepparent can adopt in Georgia. Stay tuned!